What does SAP stand for?
What does SAP stand for?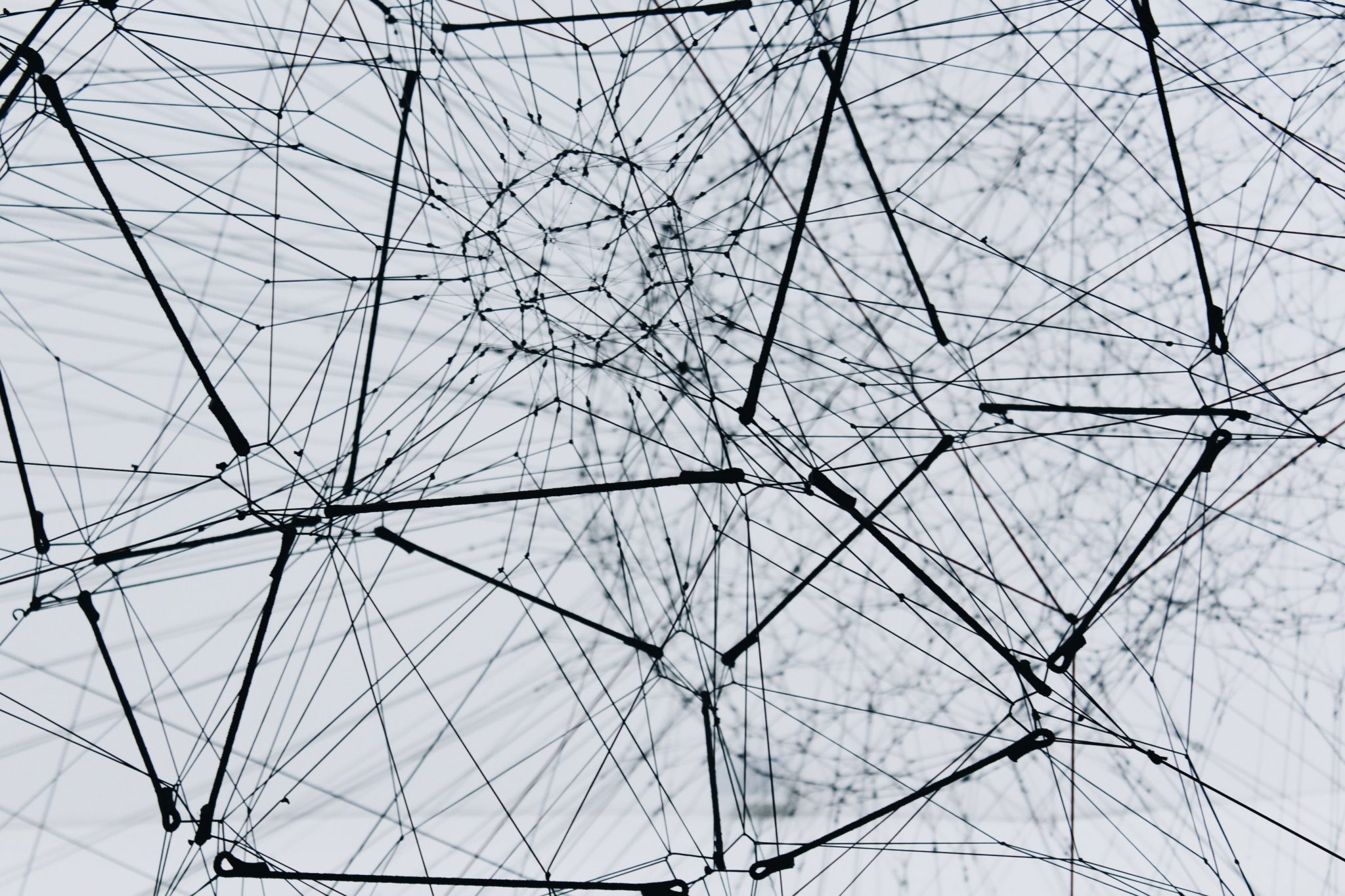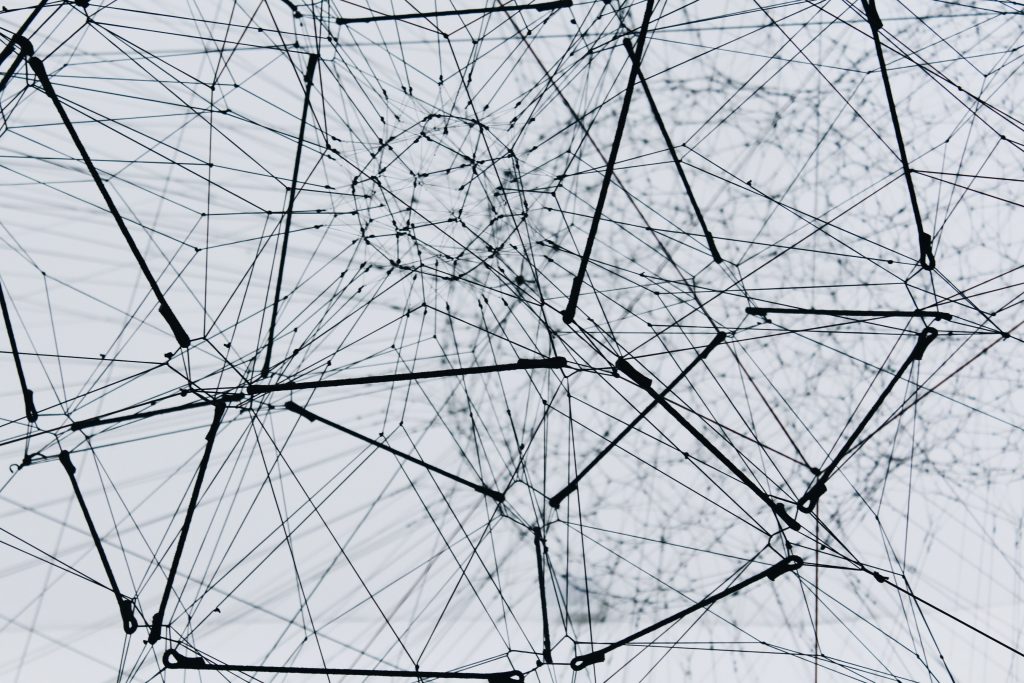 What does SAP stand for? You have probably heard about the multinational company SAP SE. Most of its Enterprise Resource Planning softwares like SAP Business One, are worldwide known, used and acclaimed. However, do you really know what this enterprise does in order to achieve its sustained presence in the market? The first reason is providing software applications that are a right fit for all industries. However, there is so much more to know about this enterprise.
What exactly does SAP mean?
SAP is a multinational company with worldwide activity. Its headquarters are located in Germany, where the company was first created. Five former IBM employees: Dietmar Hopp, Hasso Plattner, Claus Wellenreuther, Klaus Tschira, and Hans-Werner Hector were the people responsible for the company's foundation in 1972. They integrated the company with the name of System Analyze Programmentwicklung. It was later reduced to SAP SE as the legal corporate name for the company. This enterprise also started as a stock corporation under German law. It was later converted to a European company due to its goal of becoming an international player with European roots.
What is SAP software short for?


SAP stands for "Systems, Applications, and Products in Data Processing". The acronym SAP originally stood for "Systemanalyse und Programmentwicklung" in German, which translates to "System Analysis and Program Development" in english.
SAP is an initialism, not an acronym. It should be pronounced by its individual letters, not as the word "sap".
Over time, the company shifted its focus from programming to developing integrated business software solutions. Still, the acronym SAP was retained. Nowadays, SAP is known as SAP SE, the multinational software corporation that provides a wide range of enterprise software applications and solutions.
What is SAP in business and why is it used?
SAP's main goal is centralizing all business processes and providing real-time information. SAP in business terms is a multinational software corporation that creates solutions for all types of enterprises, from small to large corporations. The company is one of the largest providers of enterprise resource planning (ERP) software solutions globally. Which enables enterprises to map and design various business processes inside their companies.
A direct benefit of this is being able to link operational data, with experience data. Experience data can be defined as emotional factors, such as purchase experience and customer feedback.
SAP delivers software solutions for over 25 industries. It operates in more than 100 development locations worldwide, where its customers generate 87% of total global commerce. SAP serves 99 out of the 100 largest companies in the world. SAP is able to provide worldwide customers with what is considered to be the "new currency": data. The importance of data is to help businesses achieve their goals and improve their data management, decision-making and planning.
What is SAP used for?
SAP software is used by businesses for a variety of reasons, including: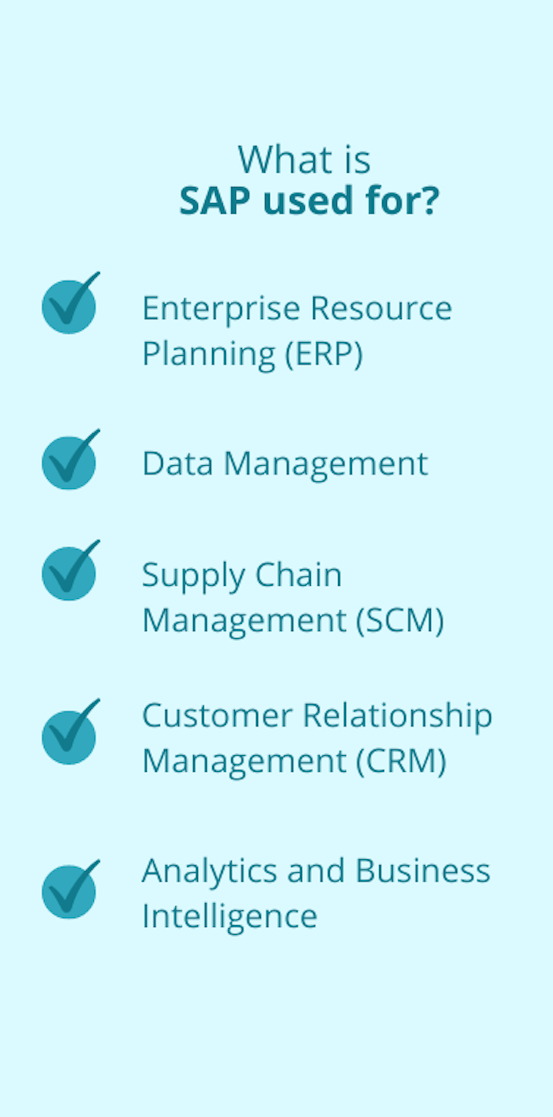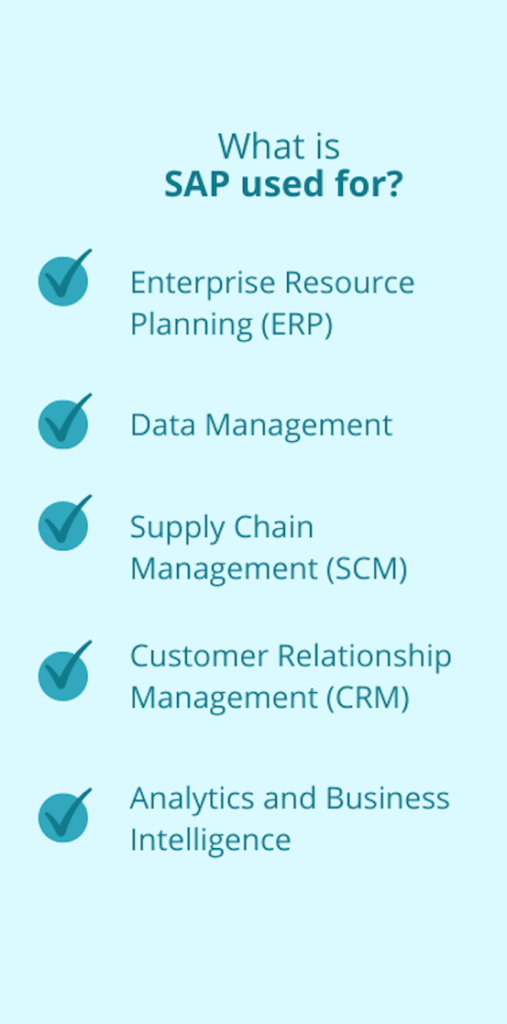 Enterprise Resource Planning (ERP): It helps companies manage core operations such as finance, procurement, manufacturing, sales, and human resources. By centralizing data and automating processes, SAP ERP improves efficiency, enables better decision-making, and enhances collaboration.
Data Management: SAP systems provide a centralized database that stores and manages critical business data. This allows for better data visibility, consistency, and accuracy across different departments. Organizations can access real-time information, generate reports, gain insights, manage, govern, integrate, and take full advantage of their enterprise data. All this, in order to drive strategic decision-making.
Supply Chain Management (SCM): SAP SCM solutions optimize supply chain operations, including inventory management, demand planning, logistics, and procurement. It helps organizations achieve better coordination, reduce costs, improve customer satisfaction, and ensure efficient production and distribution processes. According to SAP, a sustainable supply chain is one that is connected, contextualized, and collaborative.
Customer Relationship Management (CRM): SAP CRM enables businesses to manage customer relationships through the entire customer lifecycle, including sales processes and marketing campaigns. It helps track customer interactions, analyze customer data, and enhance customer service. The overall effort leads to improved customer satisfaction, better business relationships and increased revenue.
Analytics and Business Intelligence: SAP provides powerful analytics and business intelligence tools that allow organizations to derive insights from their data. This includes data visualization, reporting, predictive analytics, and data mining capabilities. By leveraging these tools, businesses can make data-driven decisions, identify trends, and gain a competitive edge.
What is an example of SAP?
SAP systems can be found throughout multiple industries. A good example of SAP ERP application is in the Coca-Cola Company. Coca-Cola is a multinational beverage corporation that uses SAP ERP to manage their operations and support their global business processes. Since this company deals with manufacturing and distribution mostly, their focus on the ERP solution is mixed. They use various SAP modules, such as Sales and Distribution (SD), Materials Management (MM), Production Planning (PP), and Financial Accounting and Controlling (FI/CO), among others.
With SAP ERP, Coca-Cola has been able to streamline their supply chain processes, improve inventory management and financial reporting capabilities. Additionally, they have been able to gain greater visibility into their operations, which has enabled them to make more informed business decisions and respond quickly to changing market conditions.
Overall, SAP ERP has helped Coca-Cola to optimize their business processes, increase efficiency, and enhance their overall performance through data processing.
What does SAP mean in the workplace?
When someone mentions "SAP" in the workplace, they are often referring to the software and its associated modules, such as SAP ERP (Enterprise Resource Planning), SAP S/4HANA, SAP CRM (Customer Relationship Management), SAP SCM (Supply Chain Management), SAP HR (Human Resources), and others. These solutions are widely used in various industries to enhance operational efficiency, improve data management, and support business growth.
As we previously reviewed, SAP's goal is to centralize all data. Having one place where all departments' information converges, exponentially reduces the risk of making errors. This commonly occurs due to miscommunication between departments. As we reviewed the Coca-Cola case, imagine the importance of clarified information throughout such a business.
Also, the cost of IT can be reduced by simplifying information that may even be repeated throughout various areas of your company. By incorporating these solutions, you are making everyone's job easier. Giving each employee fast and easy access to data is a must. But even more, knowing they can rely on the information provided to be correct. As you can imagine, the time spent collecting information across the company is considerably reduced. Eventually, the focus inside enterprises with ERP systems changes to high-value tasks.
Benefits for the Production Planning Team
Everyone can benefit from ERP Systems. Still, they are a real game changer for the production planning team. Due to the company's information being easily reachable, all departments can keep track of their progress. As you can imagine, this allows for better production planning, among other benefits. Let us talk a little bit more in detail about exactly what it is that the production planning team does. This will help us get a better grasp of how valuable SAP's solutions can be for any business.
What is Production Planning?
First and foremost we will start by detailing what a production plan is. A production plan describes in detail how one company's resources, may it be services or manufactured products, will be done. It establishes details such as production targets, required resources, processes, and when everything needs to happen in order to be able to satisfy client demand. Its goal is to make the whole process as efficient as possible without leaving quality behind.
Now, the production planning team are the members of an enterprise that have to develop a strategy. This can include forecasting, like determining how much raw materials are needed as well as workforce and equipment. In addition, it also needs to take into consideration all possible outcomes, including possible failures in any part of the plan. Since the production planning team checks every step of the production, you can imagine just how intense their workload can get.
As you can see, this whole process requires a lot of knowledge. Production planning needs to be efficient in order to provide customers with the quality they expect from the product or service. This makes the production planning team one of the most valuable parts of the company. In turn, this means that if any given company is able to provide the tools they need to make their jobs easier, and more efficient and reduce their error margin, they should be acquiring it.
ERP Solutions for the Production Planning Team
An example of how one of SAP's solutions may become the production planning team's best ally lies in their Enterprise Resource Planning systems. With an ERP, any company is able to automatically create forecasts based on historical data and even can be modified by manual parameters you consider to be relevant for your business. This is essential when you are planning how much of a product you need to produce. In addition, you can create different quotes for different suppliers and continually update them, so you always know which one is your best option for each given raw material needed for production.
Furthermore, an ERP can also show in real time how the production process is going, from goods in production to finished goods.
As you can see, ERPs optimize the whole process of production from forecasting to producing the goods and having them ready to sell. And what is more, given the amount of information you will now have on hand on how the whole process works, you can track how efficient your activities actually are.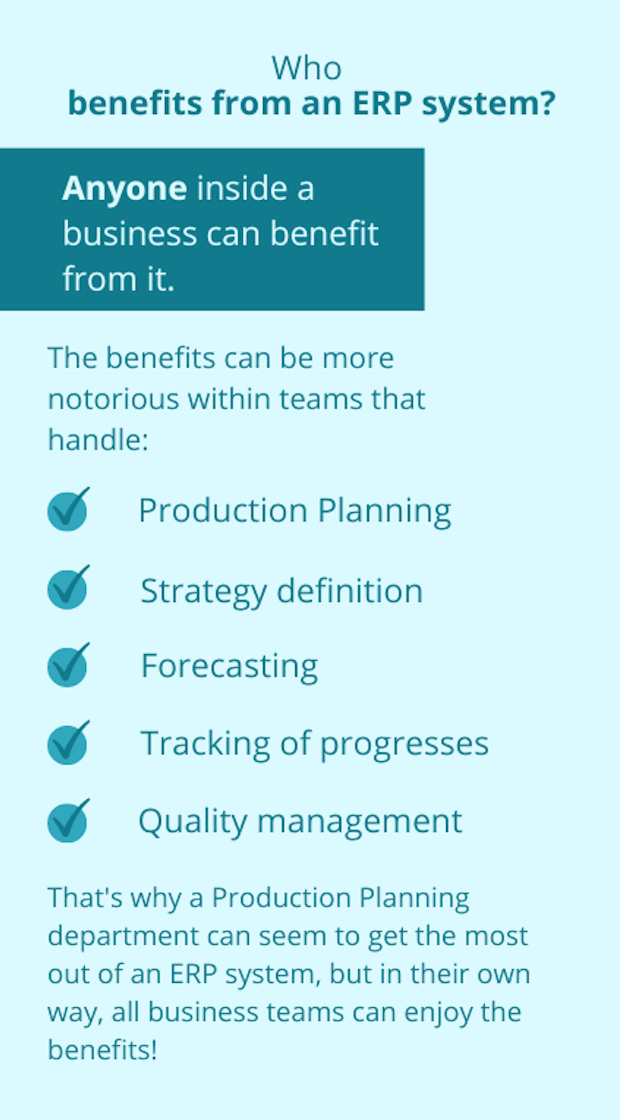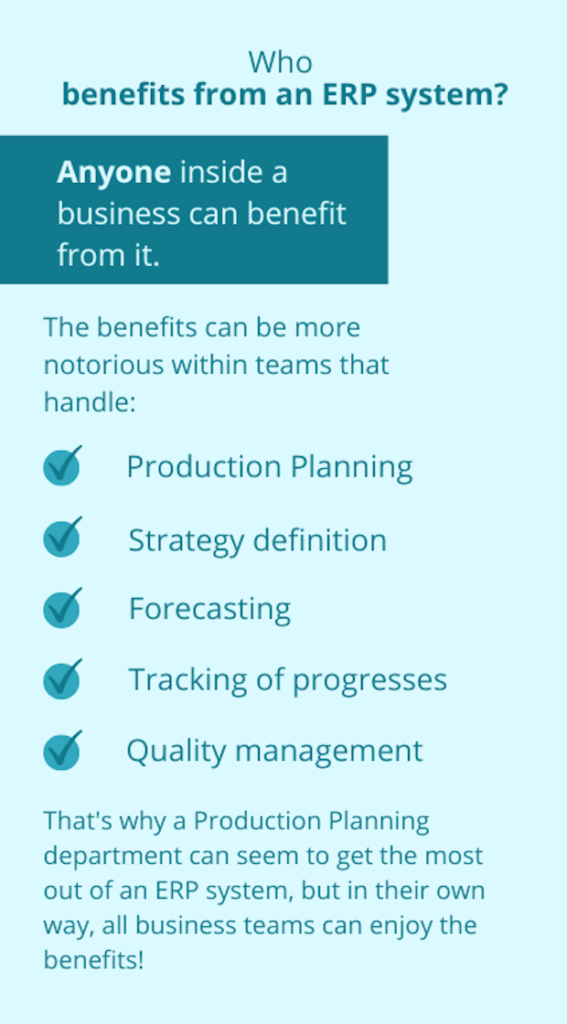 Within this tracking process, you can easily keep control of efficient and good practices at all times. On the other hand, you can also gather which elements and processes are not as effective, recognize them as opportunities to achieve optimization, and start making changes inside your enterprise's processes. In the imaginary scenario of any occurrence that could set back your production, you would be notified almost immediately.
The power of knowing beforehand (though forecasts) or in real-time (through constant monitoring) helps reduce errors and obtain a higher possibility of always having your production be as efficient as can be.
What does SAP stand for in quality?
SAP is a company that is always monitoring its customers' perception of their quality through innovative methods. According to SAP, quality is not only to be maintained but improved. Quality assurance relies mainly on employees, whether it's developing software solutions or offering support, they must always have customer satisfaction in mind.
SAP also has quality management systems incorporated, including IT teams to ensure the quality of internal IT infrastructure, tailored services, and support that maintains the quality of installed products. In addition, their solutions meet the highest possible standards derived from ISO 25010 software quality model. Inside their commitment to meet the requirement of international standards, they also have third-party certifications such as ISO 9001 (since 1998, stands for Quality Management System), ISO 27001 (Security Management System), ISO 22301 (for Business Continuity Management System), and BS 10012 (for Personal Information Management System).
In terms of securing its customer's privacy, security and overall data integrity SAP also has the next third-party validations: SOC 1, SOC 2, and SOC 3. These SOC (System and Organization Controls) certifications help any potential customer know that SAP is operating in an ethical and compliant manner, it examines various aspects of an enterprise such as its security, availability, confidentiality, and privacy among other critical areas. All SAP systems allow managing business operations and business processes to increase productivity.
So rest assured, in terms of quality, SAP is dedicated to providing the best one it can offer.
---
If you're interested in learning more about the partners we work with, take a look